Although moving at least once a lifetime is part of American culture, most of us stay within reach of home. 72% of our survey participants who moved in the last two years admitted to moving only 50-100 miles from their hometown. This move allows them to start fresh but stay reasonably close to their friends and family. A half or whole-day visit can help them cope if they feel homesick.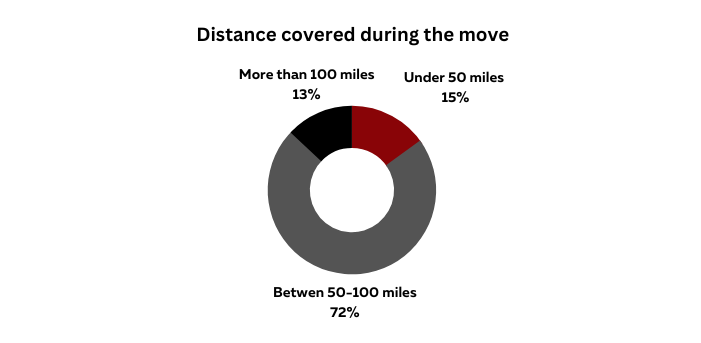 We conducted a short survey* about moving trends in America for the last two years. In this post, you can find answers to questions like: are most of them satisfied with their move; what do they miss the most; how and why did they move in the first place? Read on, and some answers may come as a surprise.
THE MOST INTERESTING SURVEY FINDINGS
74% of them hired a professional moving company because 34% of participants have found packing the most challenging part of the move
Only 3% of participants thought that being on time for a hired moving company is an important factor
86% of participants felt they've made the right choice by moving since their mental health got better with the move
The quality of life may have improved, but it isn't all perfect – 38% of participants have struggled to make new friends after the move
Moving is a big step in everyone's life, and that is why 53% of participants have experienced problems with their family, friends, or roommate due to moving
WHAT IS THE MOST COMMON REASON TO DECIDE ON A RELOCATION?
Only a few people decide to move on a whim. Almost every time, there is a legit reason for that big decision. It can be related to the professional part of life, such as a better job opportunity or pursuing higher education. It can be associated with the private part of life, such as moving in together, marriage, pregnancy, or even retirement.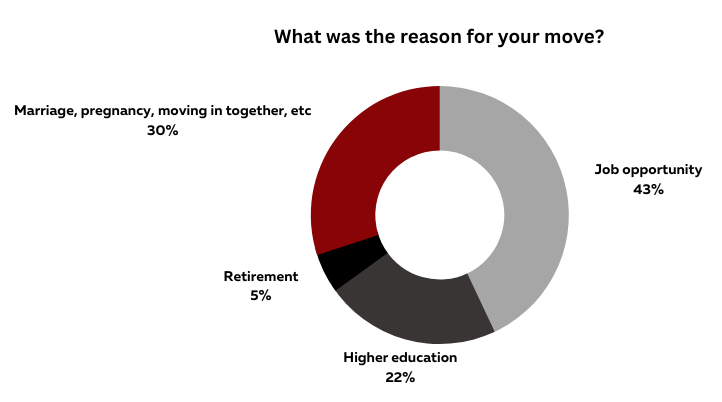 With all things considered, we concluded that the most common reason for moving is an "upgrade" of professional life; more than half (65%) of the participants moved due to a better job opportunity (43%) and higher education (22%).

But remember to communicate your decision about moving with a member of your household, no matter whether they are friends, family, spouses, or a roommate. Unfortunately, this significant decision resulted in some unpleasant situations for 53% of our participants.
ORGANIZATION FOR THE MOVE IS THE KEY
Moving, packing, and unpacking are tedious jobs that can last for days. This is the fact that our participants can agree with since 47% of them said they did it under a week. But, 45% of them weren't such luck – they spent 1-3 weeks on this task.

Only 34.3% of participants agreed that packing and unpacking their belongings was the most challenging part of the move. A close second hardest part of the move is deciding which moving company/container/truck to book (23,5%). Finally, 12,8% of participants agreed that dealing with paperwork for different contracts and utilities should be on top of the list.
BOOKING A PROFESSIONAL COMPANY FOR THE MOVE IS THE WAY TO GO
Many participants decided to make the moving process as simple as possible by hiring a professional moving company. 74% hired a full service for the move, while 8% hired a labor-only service.

18% of participants decided on a DIY moving process by renting trucks and vans (10%) or asking their family and friends for help (8%).
SAFETY, STRESS-FREE EXPERIENCE, GOOD PRICE, OR PUNCTUALITY?
Numerous factors can affect someone's moving experience. We asked our participants to share the most important ones with us. Almost half of them (49%) said that the safety of their belongings is the most important thing for them. That is why hiring a good moving company is so important – they will keep your belongings safe at all times.

The next thing on the list is an affordable price. 27% of the participants are looking after their moving budget, which means they will look at the price first, then everything else. The third place is reserved for a stress-free experience – 21% of participants want a relaxed journey from point A to point B, no matter the price.
We are all aware of the city traffic and the chaos around it, so we aren't surprised that only 3% of the participants made punctuality the most important factor during the move.
MOVING BUDGET ACCORDING TO THE PARTICIPANTS
Although we did mention that more than a quarter of participants considered an affordable price an important factor, they had a reasonable budget in mind. But, of course, moving your entire home isn't easy or cheap, so we aren't surprised to hear that 67% of participants set aside a $1,000-3,000 budget for the move.

28% of participants spent less than $1,000, while only 5% spent more than $3,000. This difference in the price depends on the volume and the distance one has to cover to move their home from one location to the other.
Since most of our participants moved within a 50-100-mile radius (72%), this percentage is reasonable and expected.
ARRIVING AT A NEW HOME – EXPECTATIONS VS REALITY

97% of our participants said they were satisfied with their new surroundings, which met their expectations. 86% of them even said that their mental health improved with this step. This is a great fact because it can encourage other people who still need to decide whether moving is the right choice for them. Sometimes, a change in scenery can have a big impact on life positively!

ADJUSTING TO A NEW LOCATION
But it isn't all roses and sunshine. Although they are satisfied with their new life, 38% of participants said they are having trouble meeting new people, adjusting to a new neighborhood (28%), or even a new job (23%). In addition, a few (11%) needed help adapting to a new climate and different weather.

That is normal because everybody needs time to adjust to a different way of life. Creating new connections and habits and adapting to a completely different lifestyle is challenging. Remember, it is a process, and it will take time.
FUTURE PLANS FOR MOVING
Ultimately, we were curious to learn more about future moving plans. Our participants were happy to share that final information with us, and more than half of them (58%) are still determining what will happen in the next two years. They think it is possible to move again, but it is also possible to stay in that city for good.

26% of them told us that they plan to move again in the next two years, while 16% said they like where they are and plan to stay in that location for the rest of their lives.
HOW DID WE CONDUCT THE SURVEY?
We conducted the online survey on 19th April of 2023 with 1000 participants all across the USA. The majority of participants were female (54%) with an average age between 35 and 44 years. 73% of participants are married and 8% of them live with a partner. 14% of them are single, 2% are divorced or widowed and 1% are separated. 67% of participants have one (31%) or two kids (36%), 12% have three kids and 4% have four. 16% of participants say they don't have kids. We can see that the majority of people with families decided to relocate in search of a better job, higher education, or place to settle down.