GET FREE QUOTE
Moving a Hot Tub, Spa, Or Jacuzzi In Myrtle Beach?
Get a FREE Estimate And Let Us Do The Heavy Lifting!
Affordable Pricing
Stress-Free Experience
Licensed & Insured
Highly Trained Team
5.0 Rating From 130+ Reviews
Item Safety Guarantee
Exceptional Customer Service
Locally Owned Business
Reasons To Hire
Hire Professional Movers
For Your Hot Tub
Risk Of Injuries
You can move a hot tub, but the risk of serious injuries is very high and not worth it. Pros like us have experience for the job.
Heavy And Large Items
Even the emptied hot tub can weigh between 500 and 1,000 pounds, so relocation is quite challenging.
Professional Equipment
We use professional equipment and tools like blankets, wraps, ramps, and dollies to relocate your hot tub safely and damage-free.
Our Service
We Move Them All:
Hot Tubs, Spas & Jacuzzis
This ultimate symbol of at-home relaxation comes in different shapes and sizes, so our Myrtle Beach service has its relocation on offer.
The most common hot tub types we move are:
Portable hot tub
Rotationally molded hot tub
Wooden hot tub
Swim hot tub
Outdoor hot tub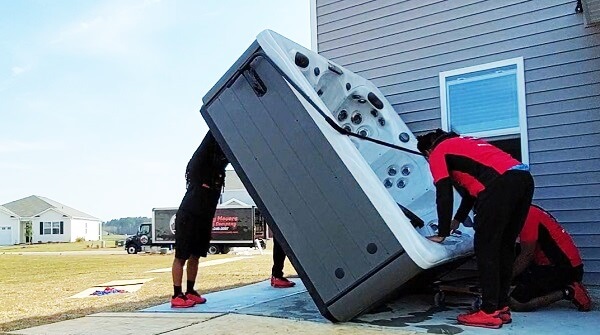 Prepare Your Hot Tub, Spa Or Jacuzzi For Moving
The first thing you should do is disconnect the power from the tub. Once disconnected, remove the power cord or wrap it to prevent damage during the moving process. Then, drain the water through the drainage valve or pump the water out. The last step is to clean the hot tub from top to bottom and repair any surface scratches before moving.
Why Choose Us
We are Hot Tub
Relocation Specialists
Experienced Spa Movers
Our company has a crew with more than 700 moving jobs behind them. They are experienced and know how to carefully move any item, including hot tubs.
Proper Equipment
Each step of moving requires different equipment. We use blankets, moving straps, lumber boards, hand trucks, dolly furniture, and trucks.
No-Damage Relocation
Thanks to our experienced team and pro equipment, there is nothing to worry about. Your hot tub will arrive in pristine condition.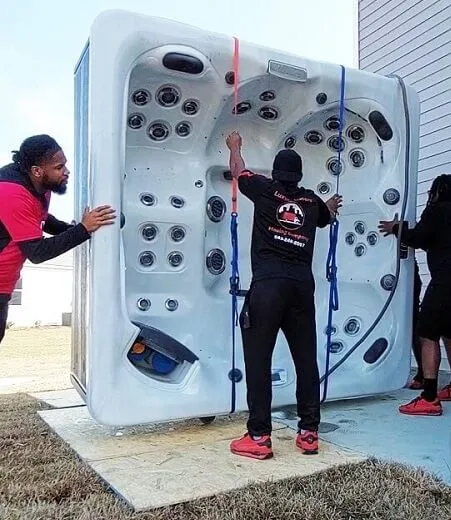 Affordable Rates
No matter the distance, we'll relocate your hot tub to your new home without breaking your budget. Our prices are competitive and suitable for everyone.
Over 130 Reviews
If you want to know more about our service, you can read one of the 130+ reviews we have. Their overall rating is 5.0, which makes us very proud of our work.
Licensed Movers
Our Myrtle Beach moving company has all the necessary licenses to ensure we are a reliable business.
Our Cost
Our Moving Hot Tub
Price Estimate
The price will vary due to the difficulty of the move and the hot tub's characteristics. For example, if the hot tub is exceptionally large; if we need to move it to a higher elevation; if we need to use specialized equipment, etc. We recommend you fill out our inventory checklist so we can send you a free estimate.
General charges for 2 hours minimum:
Travel charge: $100
2 movers: $105/hr
3 movers: $135/hr
4 movers: $165/hr
Each additional mover: $30/hr
Faq
Frequently Asked Questions
About Moving Hot Tubs
Why Should I Hire a Moving Company When Moving Hot Tub?

Hot tubs are heavy and bulky, making it very dangerous for a single person or a few amateurs to handle them independently.
Will Luxury Movers Moving Company Protect My Hot Tub Before Moving?

Yes, we'll protect your hot tub. Our professional team always uses necessary packing supplies, materials, and techniques to transport it damage-free.
Can You Move My Hot Tub Long-distance?

Yes, of course! We have the required tools and trucks to move your safe over long distances quickly and effortlessly. Also, while driving, we'll be in touch with you the whole time.
How Much Does It Cost To Move My Hot Tub?

Each hot tub type and move is unique and will be charged according to its specifications. Also, the price depends on where you are moving the hot tub from, where you're moving it to, and what type of hot tub it is.
Can I Move My Hot Tub By Myself?

Yes, you can move a hot tub by yourself without professional help. However, the danger and risk of moving a hot tub by yourself will outweigh the benefits.
Things To Do To Prepare Hot Tub For Moving

First, unplug the hot tub and drain all the water from it. Once the hot tub is empty, clean it and wrap the cable in a protective bag to keep it damage-free.