GET FREE QUOTE
Searching For Appliance Movers In Myrtle Beach?
Get a FREE Estimate And Let Us Do The Heavy Lifting!
Affordable Pricing
Stress-Free Experience
Licensed & Insured
Highly Trained Team
5.0 Rating From 130+ Reviews
Item Safety Guarantee
Exceptional Customer Service
Locally Owned Business
Reasons To Hire
Do I need To Hire
Professional movers?
Lower Risk Of Injuries
If not handled appropriately, you can end up with severe injuries and broken devices. Our team of professionals moves them every day near Myrtle Beach.
Specially Trained Movers
Moving large and heavy items like appliances is what we do best. Our team members are specially trained professional movers. Count on us to do the job efficiently.
Professional Equipment
You can't transport a refrigerator or a washing machine without professional equipment. We use the best equipment to move and protect ourselves and your devices.
Our Service
We Move Appliances
Of All Sizes
Refrigerator
Our appliance moving service includes refrigerators and freezers. We recommend defrosting them a few days before our arrival. Make sure they are empty and dry when we come so we can wrap them in moving blankets and continue with the move.
Dishwasher
We move all dishwasher models and types. Don't forget to unplug and empty the dishwasher before our arrival so we can tightly wrap it and focus on its safe relocation.
Washer/Dryer
It doesn't matter if your washing machine is top load or front load, our experienced movers can relocate it with ease. Make sure it is empty, unplugged, and disconnected from the water supply before we arrive so we can wrap it securely in a moving blanket and transport it.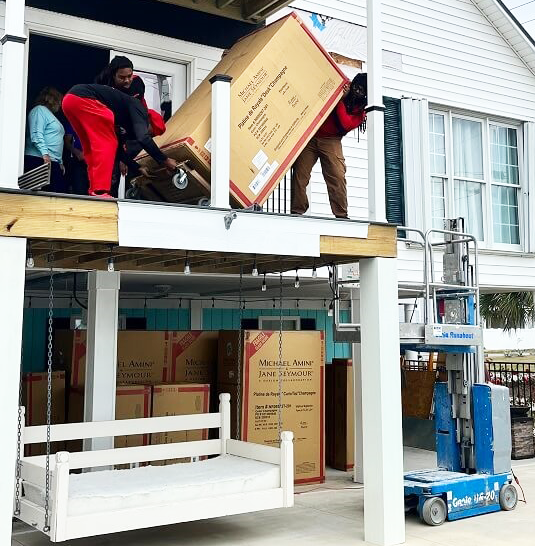 Other Appliances
Our service includes all other appliances you have in your home or office. Prepare them for our arrival and we will ensure they are wrapped and moved:
oven
microwave
rotisserie
ice box
ice maker
freezers
air conditioner
heater
dehumidifier
television
computer
monitor
Why Choose Us?
Luxury Movers moving Company Appliance Relocation Experts
5.0 Rating From 130+ Reviews
Our 5-star rating is a product of our hard work with more than 130 reviews from satisfied customers. If you want, you can check them out.
Locally-Owned Company
We are located in Myrtle Beach, SC which is our main service area. But we cover the surrounding counties and North Carolina as well.
700+ Moves Done
We have more than 700 moving projects up our sleeves. We moved every appliance and furniture there is.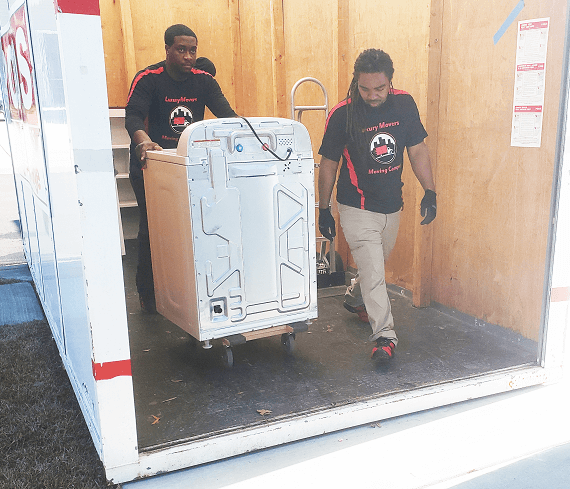 Affordable Prices
Prices for moving services are determined with your budget, along with our work and your specifications in mind.
Insured & Licensed
You can check our current licenses under these credentials: MC 1041081, USDOT 3288750, and
PSC/ORS 9874.
Safety With Proper Tools
We use specialized moving tools like blankets, wraps, and dollies to keep your items safe during the move.
Our CosT
How Much Does it Cost
To Move Appliances?

There is no exact price for moving appliances since too many factors are involved. However, you can get an estimate by filling out our inventory form. Describe the ones you need to move and any additional requirements, such as oversized or fragile items.
Basic charges (2-hour minimum):
$100 travel charge
$105/hr for 2 movers
$135/hr for 3 movers
$165/hr for 4 movers
extra $30/hr for each additional mover
FAQ
Frequently Asked Questions For Appliance Move
Can I Move My Appliances By Myself?

You can, but it is not something we would recommend. Unprofessional moving can lead to serious injuries to your back or extremities. Also, you should use specialized tools and equipment for safe relocation. Our advice is to leave it to the professionals.
Do Movers Help With Setting Up Appliances In The New Location?

Movers are qualified to load, move, and unload appliances, but they cannot set them up for you. An electrician, plumber, or other experts should handle that. As part of our additional service, we can assemble them back together and place them wherever you want.
Can Movers Move My Appliances Into Storage?

Yes, our appliance movers can move them to storage. You just need to provide the address, and we will do the rest.
Do My Refrigerator And Freezer Need To Be Unplugged Before The Move?

Yes, they need to be unplugged a few days before the move so you can remove the ice and excess water from them. That will make cleaning easier and prevent mold from growing inside.
How To Find Trusted Appliance Movers Near Me?

Look for moving companies with licenses and certificates, and read reviews and testimonials from their former clients. Take a look at the tools and equipment they use and how skilled they are with it – experienced movers get the job more efficiently and without damage.
Who Will Pack My Appliances, Me Or You?

We can pack your appliances with moving blankets and wrap them to protect them from damage. But, if you want, you can do that all by yourself.
What Must I Do Before The Moving Day?

There are a few things you can do to prepare your appliance for moving day:

Unplug them 24 hours in advance
Clean the device from dust and grime
Defrost freezers and refrigerators a few days before
Empty the machine and pack its parts separately