GET FREE QUOTE
Do You Need To Move a Piano In Myrtle Beach Area?
Get a Free Quote And Let Our Team Do The Rest!
Affordable Pricing
Stress-Free Experience
Licensed & Insured
Highly Trained Team
5.0 Rating From 130+ Reviews
Item Safety Guarantee
Exceptional Customer Service
Locally Owned Business
How It Works
How We Move Pianos
Around Myrtle Beach
Let us know the date and location of your move via the short form you can find above.
Fill out our inventory checklist with all the information and share it with our moving team.
We will read the checklist and provide you with a precise cost estimate for your move.
We will pack, load, secure, relocate, and, finally, unload your piano without any trouble.
Give us your honest review and rate the overall experience you had with our service.
Reasons To Hire
Why Do You need
Piano Movers?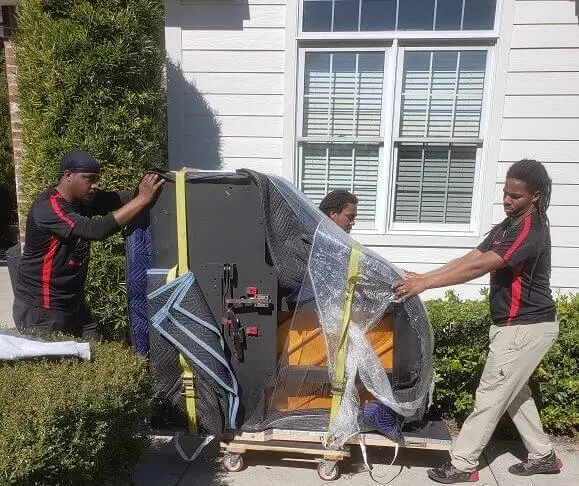 Oversized & Heavy
Pianos are super heavy, bulky items making them extremely difficult to handle safely and damage-free.
Risk Of Injuries
Moving a piano alone can easily lead to serious injuries such as back pain or broken limbs.
Save Money
Piano movers are less expensive than a new piano, right? So avoid extra piano fees and home damages.
Efficiency
The suitable materials and proper techniques will speed up the moving process.
Home Damage
Due to the piano's excessive size, non-professionals can easily damage the floor or make holes in your walls.
Our Service
Our moving Team Moves
All Piano Types
There are many styles, sizes, and shapes of pianos, and we move them all in and out of Myrtle Beach!
From concert grand to petite grand, we'll provide top-notch moving service and move any size piano safely and efficiently.
Spinet
Consolette
Console
Studio
Full size/Professional
Grand Pianos:
Petite Grand
Baby Grand
Medium Grand
Semi-Concert Grand
Concert Grand
Miscellaneous Pianos:
Organs
Square Grand Pianos
Before Move
Our pro movers will take the time to detach the lyre, lid, legs, left front leg (if we move the grand piano), and the piano pedals before moving it. We'll move these individual parts separately.
After Move
Once we relocate the piano to the desired location, we'll unload it and place it into your new home. Our last task is then to put your piano back together.
Our Cost
Piano Moving Costs
In The Myrtle Beach Area
The piano moving price depends on the type, location, stairs, and complexity of maneuvers. Due to many factors affecting the price, we encourage you to fill out our inventory list with as much information as possible. That way, we can provide you with a precise cost estimate for your upcoming move.
Basic charges (2-hour minimum):
$100 travel charge
$105/hr – 2 movers
$135/hr – 3 movers
$165/hr – 4 movers
extra $30/hr – each additional mover
Why Hire Us?
Choose The Best
Myrtle Beach Piano Movers
Piano Moving Experts
We're experts at moving pianos and know how to handle this bulky yet delicate item.
Professional Tools
Specialized equipment, tools, trucks, and techniques qualify us for this challenging task.
Reliable Company
We have years of experience moving various piano types among our 700+ moving projects.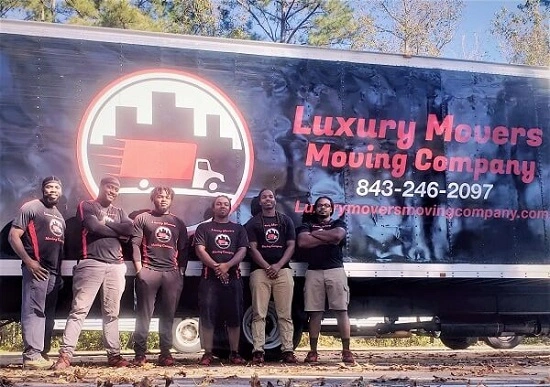 Proper Handling
We know how to disassemble and then put every piano type back together.
Top-quality Protection
We will use protective materials designed especially for the safest piano transport.
Licensed & Insured
Our Myrtle Beach company is licensed under MC 1041081,
USDOT 3288750, and
PSC/ORS 9874.
Customer Reviews
5.0 Rating from 130+
Reviews of Our Customers
FAQ
Piano Moving
Frequently Asked Questions
Will Luxury Movers Moving Company Protect My Piano Before Moving?

Yes, we'll protect your piano. Our professional team always uses necessary packing supplies, materials, and techniques to transport your piano safely and damage-free. That includes bubble wraps, special belts, a moving cart, lifting straps, and a custom moving truck.
Prepare Your Piano For A Move

First, make sure you remove all your items from the piano. Next, it's crucial to tell us where your piano should be placed in your new home so that we can plan the best route. Finally, moving any objects or items that may be in the way of our path is beneficial.
Can You Move My Piano Long-distance?

Yes, of course! We have the required tools and trucks to move your piano on long distances quickly and effortlessly. Also, while driving your instrument we'll be in touch with you the whole time.  
How Much Does It Cost To Move My Piano?

Each piano type and move is unique so we will charge it according to its specifications, on average around $610 – $1,050. Also, the price depends on where you are moving the piano from, where you're moving it to, and what type of piano it is.