GET FREE QUOTE
Need Help Moving Furniture
In Myrtle Beach Area?
Get a FREE Estimate And Let Us Do The Heavy Lifting!
Affordable Pricing
Stress-Free Experience
Licensed & Insured
Highly Trained Team
5.0 Rating From 130+ Reviews
Item Safety Guarantee
Exceptional Customer Service
Locally Owned Business
Reasons To Hire
Why Should You Hire
Our Furniture Movers?
Heavy & Large
Most furniture is big, which makes their move difficult. That is why our movers use special equipment that makes the process easier.
Faster & Cheaper
You would probably need an entire day to move what you want. Our moving team, on the other hand, will move you in a few hours.
Avoid Injuries
Besides efficiency, hiring professional movers prevents inexperienced individuals from handling heavy items, thus preventing injuries.
Our Service
We Move All
Furniture Types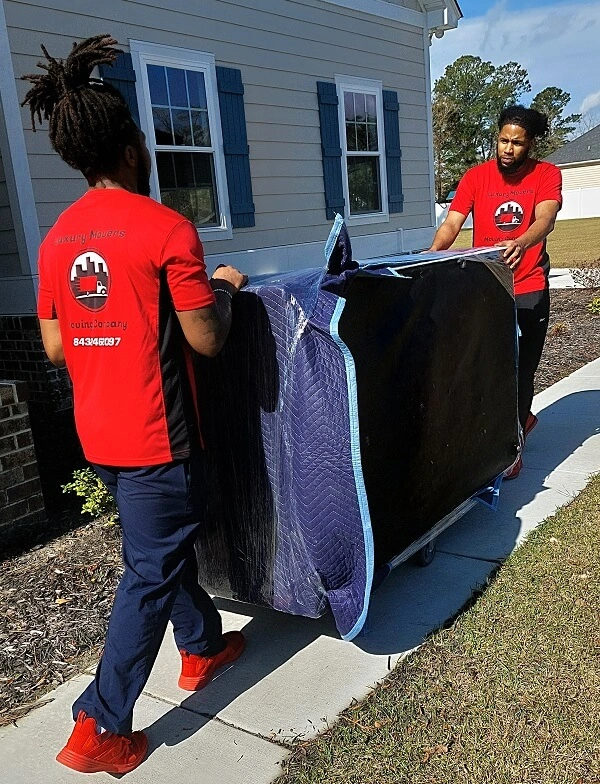 Our Myrtle Beach company has movers trained to move all furniture our clients want to relocate from your house or apartment. That includes:
sofas, couches
armchairs
armoires and wardrobes
bookcases
dressers
office furniture
console tables
living room sets
TV stands
bedroom benches
kitchen tables
desks
beds
mattresses
and more
Why Choose Us?
Hire The Best Furniture Movers
In Myrtle Beach Area
Licensed & Insured Company
Our moving licenses (MC 1041081, USDOT 3288750, PSC/ORS 9874) and insurance make us a legitimate business.
130+ Reviews & 5.0 Rating
Since our beginning in 2019, we have gathered over 130 satisfied customers who gave us 5-star ratings on Google.
700+ Moving Projects
Our movers from Myrtle Beach move furniture daily, using efficient and reliable techniques to move it quickly and properly.
Proper Equipment
We use professional equipment, including dollies, moving blankets, pads, and straps, to ensure safe transport.
Disassembly
Our couch movers will disassemble large items to make moving, loading, and transporting more manageable.
Assembly
When delivering them to a new location, we will reassemble them the way we found them and place them wherever you want.
Our Cost
Furniture Relocation Service
Cost Estimate
Hiring our furniture movers will vary due to the difficulty of the move and the number of items. Because various factors affect the price, we cannot give you an exact price. That is why we have made a detailed inventory checklist for you. It helps us provide you with a precise price estimate.
Basic charges:
2 hours min with a $100 travel charge
$105/hr for 2 movers
$135/hr for 3 movers
$165/hr for 4 movers
$30/hr for each new mover
FAQ
Frequently Asked Questions
For Moving Furniture
How Will Luxury Movers Moving Company Protect My Furniture From Damage?

Our furniture and couch movers from Myrtle Beach are professionals trained in moving and handling techniques. They will remove the shelves from the cabinets to prevent damage from the inside. Then, they will wrap the furniture in blankets and wraps to protect it from the outside. Once they are secured, we will transport them to the truck with dollies and ramps, secure them in the truck, and unload them safely to a new location.
Do Movers Help Unpack And Assemble Furniture?

We are happy to say that you can order that service, too! In addition, we offer packing, unpacking, disassembly, and assembly services.
Do My Dressers And Wardrobe Need To Be Emptied?

The answer is yes. We always ask our clients to empty their drawers before moving. In addition, we come with wardrobe boxes that will keep your clothes safe during transport.
Can You Hire Movers To Move Furniture Around Your House?

Yes, you can. You can hire our movers to move them to a different floor of your house or inside a room.
What Is The Most Effective Way To Move Furniture?

In our opinion, the best way is to hire professional movers. We are trained and know the best way to lift and relocate items. We use dollies for transportation and other equipment for safe relocation.