GET FREE QUOTE
Moving Out Of Or Into An Apartment Requires a Pro Moving Service
Get a Free Quote And Let Our Team Do The Rest!
FREE Estimates
Attention To Detail
Stress-Free Experience
Highly Trained Team
Fast Replies
Competitive Pricing
Exceptional Customer Service
Small Local Business
Local & lONG-DISTANCE
Apartment Moving Services
We Provide In Myrtle Beach
Want to move your apartment or condo a few blocks away in Myrtle Beach? No big deal! Our team will pack, load, move, unload, and unpack in no time.
Moving across or out of state is a piece of cake for us! Our professional trucks, experience, and quality equipment will relocate you wherever you point your finger.
Got a new job and need to move as soon as possible into your new apartment? In that case – call us and reserve the date! We offer fast and reliable service.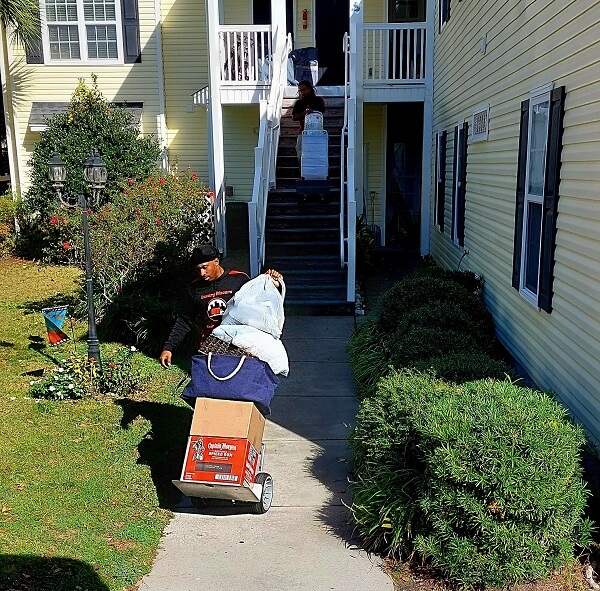 Professional packing techniques will protect your items. Moreover, we'll do it quickly and efficiently, giving you more time to take care of other things.
Disassembly & Reassembly
We'll disassemble your furniture and other oversized items to make truck loading easy. Then, when arriving at your new home, we'll reassemble them and place them where you tell us.
We will treat your belongings with the utmost care on their way to storage. If you aren't sure which storage to pick, ask us because we know reliable facilities.
OUR CUSTOMERS
We Move Condos
For All Our Clients
Reasons To Hire
Do You Need Professional
Apartment movers?
Apartments typically have fewer things than houses. However, many obstacles can occur on a moving day, and we know how to handle them.
Reasons why it is better to hire pro apartment movers:
Save Time & Money
Moving in and out of an apartment building is very challenging. Moving companies already have a plan for doing it – every step. You'll save your time and money if you hire professionals.
Better Moving Efficiency
Usually, people don't have professional moving equipment, which makes everything very difficult. Pro movers come with dollies, wraps, and straps to move you efficiently.
Experience
Often neglected, but a crucial thing when it comes to moving. Our experienced team from Myrtle Beach uses proven techniques and makes moving easy.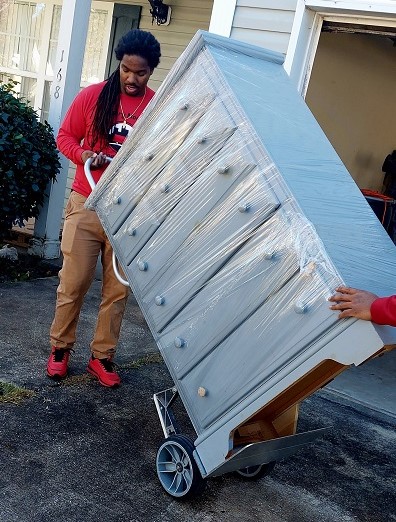 How We Move
What To Expect From
The Condo Moving Process?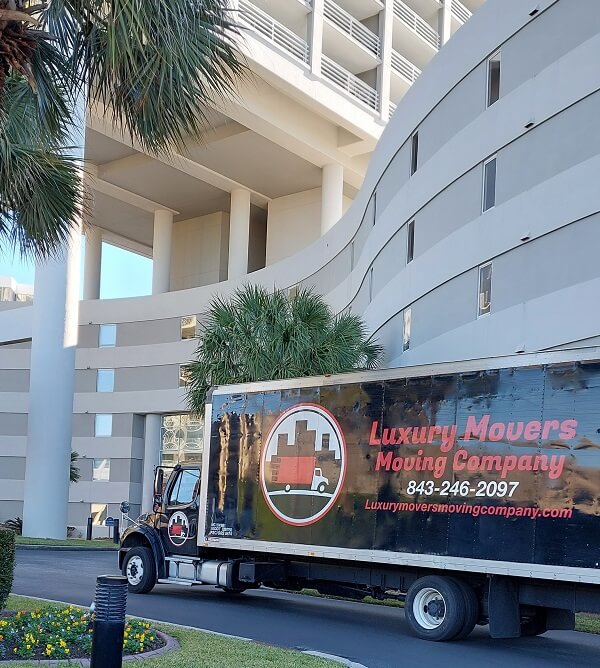 Here is what you can expect if you contact Luxury Movers Moving Company from Myrtle Beach and book an apartment move.
Step 1 – Preparation
First, we'll check your moving needs and estimate our moving costs. Also, we'll ask if packing and storage services are needed. Finally, we'll agree on the time of the move and other details.
Step 2 – Packing & Loading
Moving day. We come equipped with a truck(s), equipment, and all packing materials. We'll label all moving boxes and place them in our trucks with extra care.
Step 3 – Delivery In Your New Space
During the transport, we'll be in contact with you. Plus, we'll contact you before the arrival of the moving truck to confirm the delivery time.
Step 4 – Unloading
Finally, we'll unload your belongings. Then, you'll have more time to enjoy your new home/apartment.
Safe & Sound
We Will Relocate Your Condo & Protect It From Damage
Our top priority is to protect and keep your belongings safe and sound.
Protection of your doors, walls, exits, entrances, and floors
Disassembling and reassembling furniture
Extra protection for fragile items
Carefully wrap and pack all your belongings
Securely load your stuff into our moving truck
Dealing with electronics carefully
Safety loading and unloading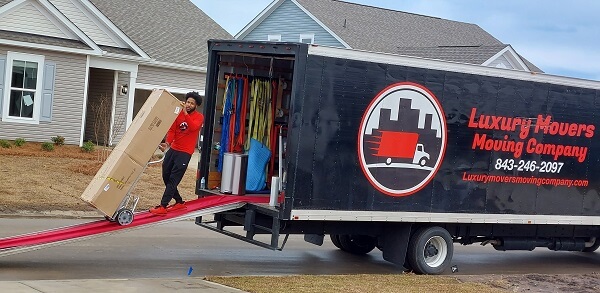 Tools & Equipment
We use Special Equipment
For Your Apartment Move
We work smarter, not harder, to make your apartment, studio, or condo move as easy as pie. Here are some of the equipment and tools we use:
Moving dollies
Hand truck
Gloves
Stretch plastic wrap
Property protection materials
Ratchet straps
Moving pads
Moving trucks
Moving blankets
Professional tools
Our COst
Apartment Relocation
Price For Myrtle Beach
Many factors will affect the final apartment move price. That includes the number of items, the distance you are moving from Myrtle Beach, and other additional services.
First, you should fill out our inventory list with the exact number of furniture, items, and boxes you want to relocate. Don't forget to mention all fragile or oversized items we should pack and move with extra care. You'll get an accurate estimate and avoid additional fees by filling out the inventory list you can check out here.
So fill out the form, and we'll provide you with a customized moving estimate. On average, our company will charge you $310 to $2,500. Our hourly rate is $105; however, you can hire us for a minimum of two hours. We add a travel fee of at least $100 to that price.
Why Hire Us?
The Best Apartment Movers
In Myrtle Beach
Smooth Moving Experience
We use proven methods, techniques, and tools to move your apartment quickly and without downtime.
Fast And Reliable Team
The highly-experienced team will do their best to leave you happy with your apartment move experience.
Affordable Rates
There are no hidden fees. Our prices suit everyone – students, seniors, veterans, and families. Give us a try!
Attention To Detail
Our team members are trained to pack everything, including fragile items such as valuable paintings, glass tables, flat TV screens, antique furniture, and even your home office furniture.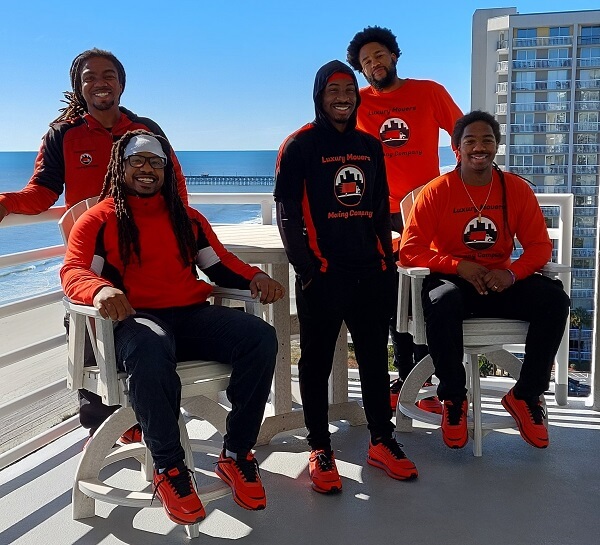 Moving Tips
Prepare In Advance
For Apartment Move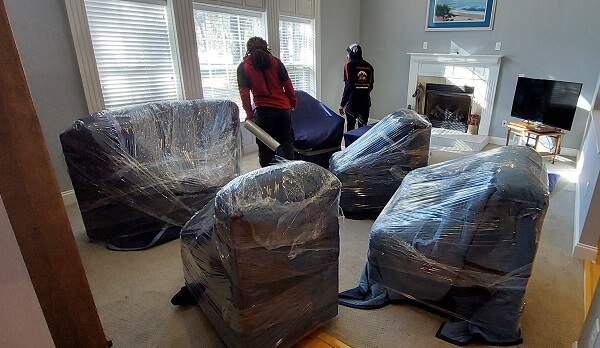 Before the moving day, read these tips to better prepare for the move:
Allow plenty of time to pack so that the moving day is relaxing
Get rid of all unwanted items and furniture
Disconnect all appliances except electrical connections
Have a plan for children and pets on moving day to keep them at a safe distance during the move
Make sure you pack all essentials you'll carry with you in a bag that will stay by your side
FAQ
Things To Know
About Apartment Move
How Should I Prepare For Moving Day?

Let the movers know where to park their truck, prep your apartment or condo for moving, clear the path from any obstacles, and plan for your children and pets – if you have them.
How Can I Move My Apartment Items More Efficiently?

The best advice we can give you is to pack less-used items weeks before moving day. Also, you can label each box so we'll know where to place them without asking.
How Do I Book a Move With Luxury Movers Moving Company?

There are several ways to get a free quote: fill out the form, send us an email, call us, or contact us on social media.
Will The Movers Disassemble My Furniture?

Yes, we'll do that! Our professional team members will disassemble and reassemble your furniture for easy and safe moving and transport.
Do You Provide Packing Services?

Yes! Our crew is trained to pack your belongings safely and efficiently. We come with high-quality packing materials and tools.
Can You Transport Pets?

Due to insurance and safety reasons, we cannot transfer pets.
What Should I Keep With Me On Moving Day?

Any items you or your family will need on a moving day, including phone charges, money, documents, a change of clothes, and medications. Place these essentials in the bag that you'll carry with you.
How Do I Move Furniture To Another Apartment?

The best way to move furniture to another apartment is to hire professional movers like Luxury Movers Moving Company from Myrtle Beach because it will save you time and prevent injuries caused by unprofessional handling.