You may need clarification about planning your local move, especially if you want to move for the first time – should you hire a local moving company or DIY?

By definition, a local move stays in the same state as its origin and never crosses beyond state lines.
A local relocation often keeps within a 50-mile range, meaning the distance between two locations cannot exceed 50 miles.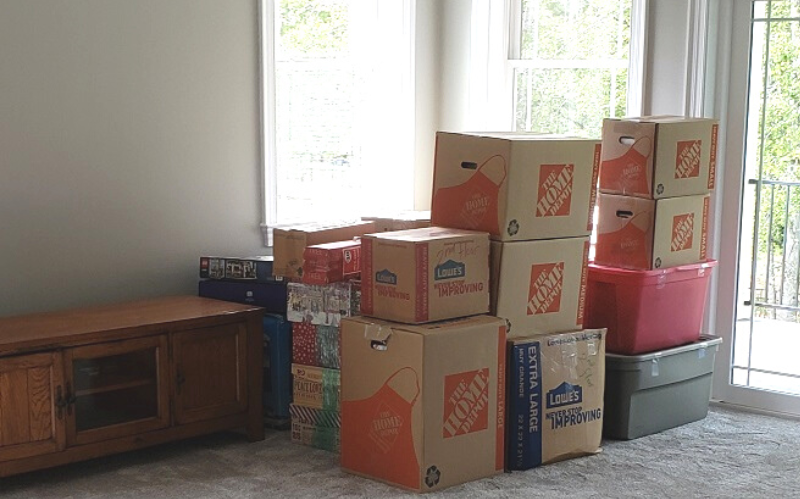 Even though you are moving locally, it doesn't make a move less challenging. Whether you move a few blocks away or to another city, you still have to do the same job.
That includes:
Begin moving preparations
Decide which option to choose
Prepare packing supplies
Pack in stages
Prepare your new home or office
Load, unload and transfer your belongings
There are many things to think of, so you should evaluate your options and decide what is best for you.
So, what is the best way to move locally? And what are your options?
Let's take a look at five of them!
Five Ways To Move Locally
Preparing for the move is incredibly stressful, but the good news is – you have options.
That is why finding every opportunity to save money and complete it quickly and efficiently is relevant.
These are five options you can choose between:
Do-it-yourself
Rent a truck
Hire "Labor only"
Rent a moving container
Hire a professional moving company
Check their advantages and disadvantages and choose the one that works the best for you.
1. Do It Yourself
Short-distance relocation can be done without professional assistance.
Actually, it is the cheapest way to move locally – to do everything yourself. This option will help you save the most money in the end.
If choosing this way, you should pack your belongings, load them onto the truck, drive it to the new location, unload, unpack them and repeat.
Be aware that you're fully responsible for your belongings.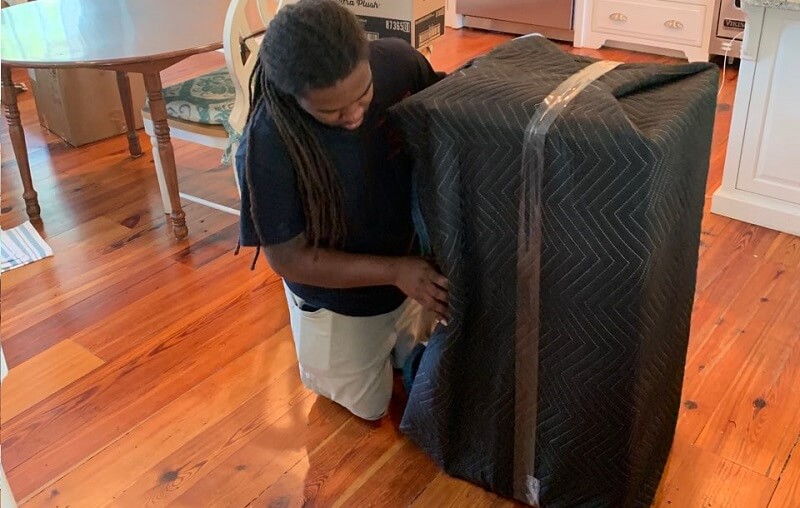 Recruit your family and friends to help pack and load your items in the car or truck. Since any of you aren't professional, there is a high risk of damage to your belongings and your house. Also, you need to use your own car or truck to complete transportation.
While choosing the DIY route would undoubtedly save you money, it will cost you a lot of time and effort.
Shortly, it would help if you kept some pros and cons in mind.
PROS
Practically free
Complete and total control over your move
CONS
Lack of proper equipment and tools
Time-consuming task
All heavy lifting is on you
High risk of injuries
Risk of damage
Bottom line – DIY-ing is the cheapest option, ideal for those on a budget, but it's not for everyone; it comes with many risks. So take all advantages and disadvantages into account.
2. Rent a Truck
Moving all of your items in the car isn't a realistic option.
Especially if you have oversized furniture and other bulky or fragile items, such as sofas, couches, desks, tables, and others.
That's why renting a moving truck is your second and most traditional option.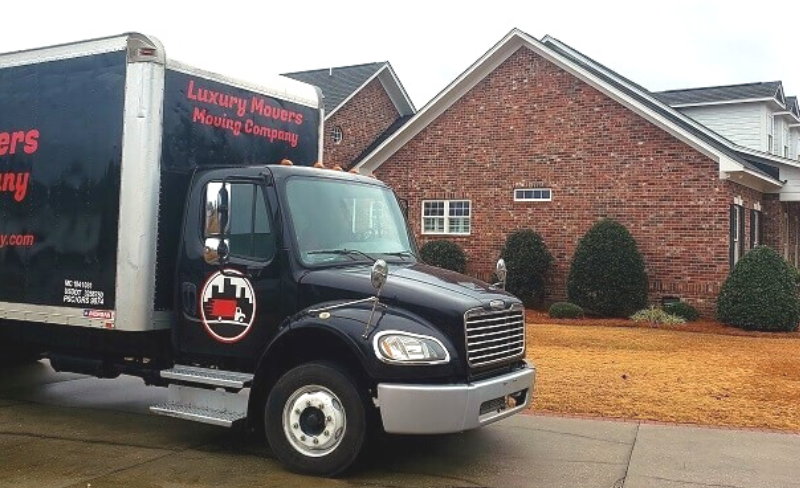 You can organize your belongings into one place by packing them all into a rental moving truck.
The price will vary from company to company, truck size, amount of items, and needed time.
Avoiding rush hours is a good idea to save you time and gas. Also, check the cost of other necessary tools and equipment, such as furniture pads, dollies, straps, etc.
PROS
Total control over your move
Cost-saving option
Moving on your own timeline
Extra cargo space
CONS
Lots of time to move everything yourself
Lots of work
Risk of damage – both of your belongings and the rental truck
Bottom line – Although this option is affordable and you're bound to cut down the moving expenses, there is still a lot of work to do by yourself.
3. Hire "Labor Only"
Labor only means you will have extra hands ready to help with your local move.
This is an excellent option for those who need extra strength.
Be aware that this option does not include professional equipment or a moving truck. Labor only.
Simply put, this service ensures movers without the truck. Meaning you can hire labor to load the truck, unload the truck, or pack boxes. After all, it's up to you. You can choose exactly what type of moving help to get based on your requirements.
There are two options:
You can find independent labor contractors
Hire movers from a moving company. They are experienced and know the job.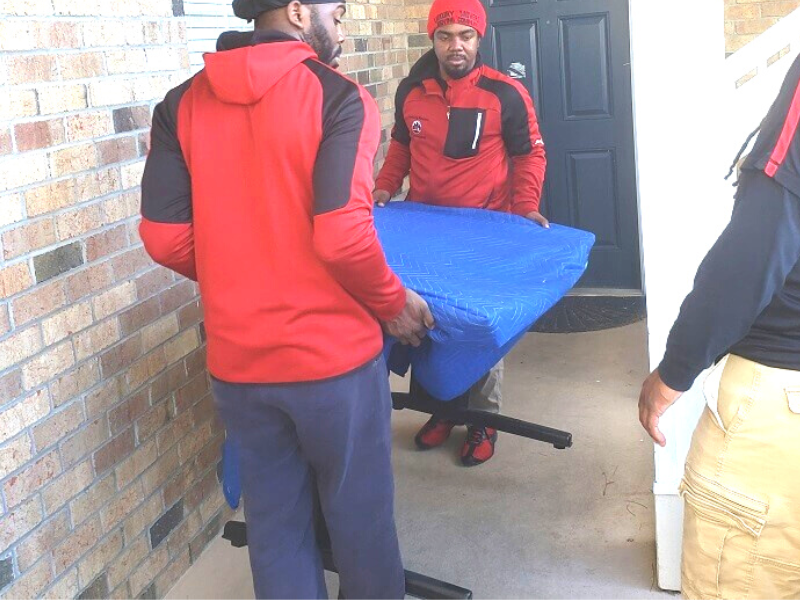 If you don't have a truck, you'll still need to rent it, borrow it from your friend or do something else. Also, remember that your help could be less reliable than a full-service moving company.
PROS
Cost-effective option
Experienced hands
CONS
Lots of work – you still need to do some lifting
Reduced reliability
Bottom line – Hiring extra pair of hands can be really helpful and make your move less challenging. However, you should be aware of who you hire. If you decide to pay $15, be sure you'll get what you asked for.
4. Moving Container Company
Renting a moving container is another option on the table. It's ideal for moving at your own pace.
It is a standalone container that comes in various sizes. The container will be transported to your driveway when you rent one from the container company.
You load it, they pick it up, transport it and drop it off. Then, finally, you unload it.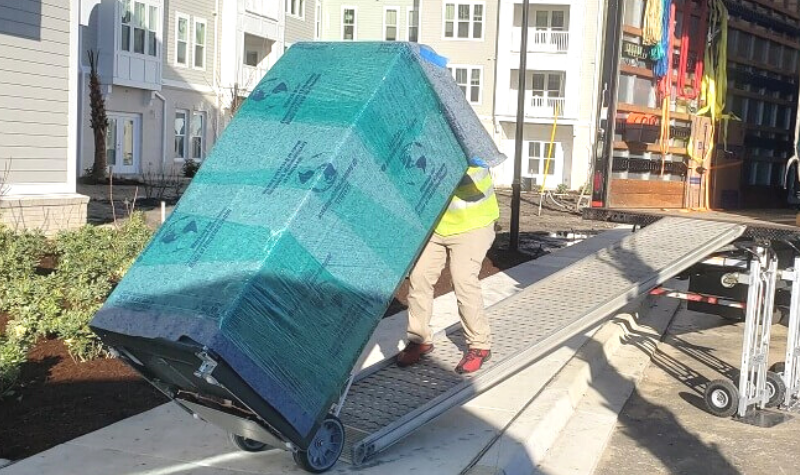 The main benefit is transportation, meaning the container company will do driving across town or state. You need to make a deal on when they can pick up and drop off the container.
However, this option isn't so perfect for a local move but it is a better choice for a long-distance move.
PROS
Cost-effective option
Transportation
Storage
CONS
More logistics
Not perfect for local moves
Lots of work – packing, loading, and unloading
Bottom Line – This particular moving option offers the advantage of storage and delivery at a reasonable price. Perfect for long-distance moves.
5. Hiring a Professional Moving Company
Last but not least! This option is ideal for quick and efficient moves!
You can hire full-service local movers who do all the work – loading, transporting, and unloading.
Professionals know how to move your items quickly, efficiently and damage-free. The moving crew follows the plan and uses proven techniques and professional tools.
And you need to be there and give some instructions.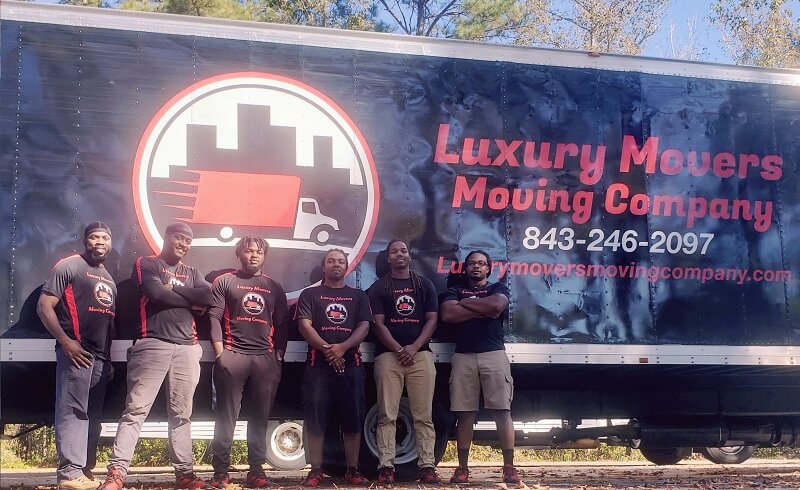 Remember that full-service movers are expensive; however, they are skilled and make the moving process efficient, fast, and less stressful.
PROS
Professional service, team, and equipment
You don't need to do anything
Bottom Line – If you have some money aside for your move, we recommend choosing this option. It will speed up the moving process and ensure damage-free transport and proper handling. The peace of mind will be worth it.
Things to Know When Hiring Short-distance Movers
If you hire a local moving company, there are some things to consider before actually choosing the company you'll work with.
Companies with no online presence could be scammy.
Hire local company – Small businesses are usually less expensive, have a friendly approach and it's nice to support your local guys.
Do your research – Check out their state licensure and insurance.
Ask for a free quote – Each reliable moving company will send you a free quote based on your moving requirement. At Luxury Movers Moving company, we have created an inventory list – fill it out and we'll give you a more precise cost estimate.
Read reviews – Check out what other people say about the company. Read testimonials and online reviews (Google reviews, Yelp, Facebook, company website) to get a clear picture of their work.
Why Are We The Best Choice
Luxury Movers Moving Company has a highly-trained and experienced crew who use professional tools and equipment.
There are more reasons why our company is a good choice:
Fully licensed, with a certificate of insurance that allows us to perform moving.
We are insured, so you can file a claim if any damage occurs.
Well-known for our reputation, trustworthiness, customer-oriented and professionalism.
We'll create a detailed moving plan that fits your needs.
We're a small business, and we'll do everything in our power to make your move a breeze.
Completely dedicated to the details allowing you to relax and trust the process.
We won't break the bank at the end of the day. Our company offer affordable prices and high-quality services. And we stay behind our words.
Conclusion
When it comes to short-distance moving, there is not one single way to move locally that fits everyone.
However, there are a few options you can choose from. Based on your resources – budget, time, and physical abilities, you should weigh the options and choose the one that strikes the best balance between cost and your requirements.
Consider hiring a moving company if you have to move your entire household or business – moving companies are pricey, but they will save you time, items, effort – and nerves.